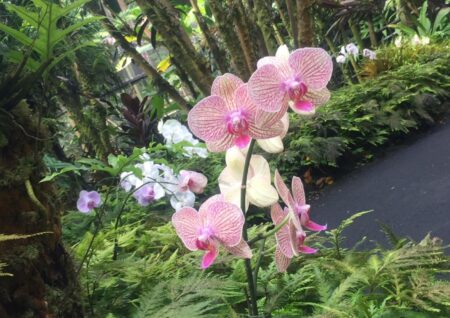 VASH Hawaiʻi Island received 45 referrals and assisted 97 visitors
OCTOBER

Case #1 - A visitor contacted VASH and explained she came to Hawaii to stay with a man she had known for 24 years. He was renting a room at a home in Honoka'a. He became intoxicated and abusive towards her. Police responded and evicted the man. VASH as- sisted the visitor with a referral for the domestic abuse hotline. She was advised to call them to see how they could help her with lodging until she figured out how she was going to get back to Alaska. VASH was able to help her with her flight back to Alaska and her transportation to the airport. ($229 flight + $70 luggage + $6.50 food) She was grateful for the help she received from VASH to get back to her sister's home in Alaska safely.
Case #2 - An older gentleman with dementia arrived from LAX via Asia. He was traveling with his wife/caretaker but was separated at LAX and subsequently boarded the Delta flight without her. He arrived at KOA in the evening with no vaccination records or proof of COVID testing. He did not know his wife's phone number or email address. Roberts Hawaii would not allow him to leave the airport and called the police to have him arrested. Officer Hamakoa arrived and asked VASH for assistance to fly him back to LAX rather than arrest him. VASH agreed to pay for his flight, but ONLY if Delta could locate the wife. Delta was able to locate his wife. Delta waived the fee to fly him back to LAX to reunite with his wife $169 in-kind value. The next day the wife and the husband were slated to fly back to Kona together.
Case #3 - A Washington couple staying in Kona experienced a medical emergency when the husband had a heart attack. He was transported from Waimea to Hilo Medical Center. VASH West informed VASH East of their needs and wife's contact information.
VASH East arranged an ocean view with a balcony at kama'aina rate, saving them $700 for a five-night stay at the ever-generous Hilo Hawaiian Castle Resorts Hotel. The husband's medical team in Washington told him that the care he received from Hilo Medical Center was excellent. He is growing stronger and should be able to return to normal activities end of December top of the year.
Case #4 - Visitors from Colorado were staying in Oceanview Colorado when one of the visitors' friends fell and broke some ribs. She needed medical care which she received at Hilo Medical Center. VASH contacted National Rental car to have their contract extended and advised them to contact United Airline to explain their need and reason for changing their flights. They were successful and received no charges. The visitor's husband needed to get back at their originally scheduled time, however, another one of their party remained on the island to assist her friend home. They stayed four days at Hilo Hawaiian Hotel in an ADA-compliant room at kama'aina rate. No resort & parking fees were charged.
Case #5 - A couple from California traveled to Kona under poor advice and landed late in the evening to attend a work gathering in Waikoloa. The husband contacted VASH three days later and indicated they had boarded their flight with no test results because they were told they would find once they received their results. They were quarantined in their room and allowed outdoor space just beyond their room on the ground floor. Unfortunately, the husband had a smoke outside the allowed zone. As result, the police were called and he was cited. Once their negative results came in, they were still not allowed to leave their room. Waikoloa sighted a state mandate that results must be in hand when visitors land in order to avoid having to quarantine for seven days. The visitor was frustrated and reached out to VASH. VASH contacted Civil Defense to ask if there was any way to resolve their issue. Civil Defense provided an email for the visitor to submit their results for verification and a document of release. They emailed immediately and were granted release. The husband called VASH back thanking VASH for saving their marriage, and the wife concurred.
NOVEMBER
CASE #1 – VASH received a referral from Kona Community Hospital regarding a visitor with a severe affliction of the lungs who would not be able to fly home as scheduled. VASH assisted the patient's sister with rescheduling flights and finding more affordable lodging. In the end, the hotel they were already staying in, reduced the nightly room rate and the sister did not move. She was very grateful for the information and the emotional support.
CASE #2 – VASH assisted a family traveling from Washington State, staying at the Waikoloa Beach Resort. The mother-in-law had a mini-stroke and was taken to North Hawaii Community Hospital where she was diagnosed with pneumonia. They expected they may have to extend their stay. VASH assisted with lodging, referrals, and car rentals.
CASE #3 – A visitor was hospitalized with a blood clot in the stomach and tested positive for COVID when admitted to Kona Community Hospital. She called with questions that were more appropriately addressed by the hospital staff (such as her release date). VASH provided information on quarantine and SAFE Travels information re: her COVID diagnosis. VASH suggested she keep our number for follow-up, as her release date/time would become clearer and we could assess any needs she may have at that time.
CASE #4 – A couple was on a tour to Volcano National Park and staying at the Kona Royal Sea Cliff motel. While visiting the park, the wife fell and broke her hip. VASH pro-vided the husband a ride to Kona to collect their belongings and rental vehicle. The wife was taken to Hilo Medical Center for surgery. VASH provided an Uber for the husband to get to Kona and retrieve their car and belongings from the hotel room. Needing a place to lodge upon his return to Hilo, VASH contacted Hilo Hawaiian Hotel forgot him an ocean view room for $135 plus taxes, a night. He will be staying for six days at a savings of $390.
CASE #5 – A visitor from California had a water-related accident at Hāpuna Beach State Park. He was taken to North Hawaii Community Hospital for evaluation. The visitor was unresponsive though still breathing and needed to be flown to Queens Hospital in Honolulu. A Kona resident who was at the beach and witnessed the incident drove the wife to the hospital. The couple's rental car was still at Hāpuna Beach State Park. The Kona resident and her friend agreed to return her rental car and gather the visitor's belongings from the Waikoloa Hilton. The couple's son was going to fly to Honolulu the next day to be with his parents. The case was turned over to VASH Oahu.
DECEMBER
CASE #1 – A couple from Barcelona arrived in Hilo. Neither of them spoke English. Upon landing, United airlines reminded the husband that he needed to complete his Spain Travel Health form before their return flight home. They stayed at the Grand Naniloa Hotel and returned to the United counter for their Saturday departing flight. The husband had not completed his health form. United grounds crew attempted to as- sist him using the google translate program with no success. The plane departed without them. This frustrated the husband who hit the protective plexiglass shield and lunged for one of the United counter attendants. He was escorted from the United area by airport security and was banned from flying United Airline. They returned to their hotel and reportedly gave a woman at the hotel $1000 cash. She claimed to have a sister who was a police officer at the airport and she could get her to clear up their issue, thus allowing them to fly United together. The couple returned to United Airlines and were once again escorted away. VASH was contacted and asked to assist the couple. A VASH volunteer who spoke Spanish called the hotel and was informed the couple did not have a cell phone that operated abroad and that their credit card was locked, therefore not allowing them to charge for their extended stay. The husband reportedly lost his job due to his absence. The couple again contacted the police insisting they make United allow them to fly home The women managing SPC counter attempted to help them using google translate. VASH shared all that was learned through the interpreter's and United Grounds Manager's conversations. The couple was informed that the husband still needed to fill out his health form and book a flight back to Spain. United allowed them to retrieve a refund for their tickets so they could fly together on another carrier. The couple ended up at the Grand Naniloa which attempted to assist them, however, said they would apply for their refund from United at a later date. The couple made it to Oahu, Oahu. United Airlines contacted VASH to inform them that the husband was still not allowed to fly United due to his belligerent behavior he displayed in Hilo. Because they did not have a "working phone" it was impossible to check on their progress to know just where and how they were.
CASE #2 - A woman from Las Vegas landed in Queens North Community Hospital in Waimea. She had broken both of her legs and needed operations on both of them. Her two front teeth had been knocked out. She and her husband needed their Hawaiian Airline tickets to be converted to "opened" status until she was able to fly. Hawaiian Air agreed. Once both legs were operated on and the doctor gave her the approval to travel back home, VASH contacted Hawaiian Airlines and booked their request of the day, time, and first-class seats. Once at the Kona airport, the visitor called VASH to say they received their ticket and all is well. She thanked VASH for all the assistance, reassurance, and help. She was very relieved to be on her way home.
CASE #3 - Kona Community Hospital referred a visitor who had broken her ankle during an excursion to a coffee farm in the South Kona area. VASH was able to help them ex- tend their stay without having to move, and extend rental car and airline tickets. Arrangements for a wheelchair and special seating were made. In addition, VASH provided emotional support for the elderly travel partner and information on the boarding process. They were both very happy with the support and left the following text message: "Again, can't thank you enough for all your help. We are at the airport waiting to board. Jean and I both can't thank you enough."
CASE #4 - A visiting couple found a male intruder in their Waikoloa condo. South Koha- la police reported the incident to VASH. The visitor confronted the man who immediately escaped, nothing was stolen, but the couple was very upset. Vista Waikoloa arranged for them to move to a different condo and VASH provided emotional support and they calmed down.
CASE #5 - Kona Community Hospital referred a visitor who had suffered a collapsed lung during free-diving in Kealakekua Bay. He was accompanied by his wife. Both had been camping in Ho'okena. The wife was extremely upset. VASH arranged accommodations for her and helped with her airline ticket, as they had planned to leave that very night. Once she realized that she was not alone and had support, a phone number to call, and an ear who would listen, she calmed down. She contacted VASH after she had arrived at her new lodging to assure that she was ok and safe.
CASE #6 - A Kau Police officer called in an emergency when he assisted a young visitor who had been assaulted by her boyfriend. They were both scheduled to fly out two days later, but she was able to run from him and fly back a day early. VASH assisted by picking her up in Ocean View and providing emotional support, a sandwich, and tea. VASH arranged a room at a domestic abuse shelter in Keauhou, where she spent the night. The boyfriend had stolen her ID and destroyed her telephone. The next day VASH picked her up at the shelter, and took her to a bank, and then to a store, where she was able to get a new cell phone, so she was able to communicate with her family. Her mother was very distraught and a long phone call with VASH helped her to calm down. She was extremely grateful for the communication with VASH and for enabling her daughter to get a phone and be able to communicate again herself. The young woman was taken to the KOA airport. She sent a thank you note after arriving in Seattle.
CASE #7 - On the last day of the year and the last day of their vacation a female visitor died while snorkeling in Kealakekua Bay near the Captain Cook Monument. She was found unresponsive and taken in by a tour boat, from the harbor she was taken to Kona Community Hospital. She was traveling with 6 other family members, two of her stepchildren spoke English well and VASH assisted them with arranging the extension of their lodging, vehicle, and also the changes in flights. Emotional support was given and also with information about the next steps. While half of the family flew back home, the father and the two adult stepchildren stayed on the island until they were able to take her remains home to Indiana. All were very happy about the support from VASH.