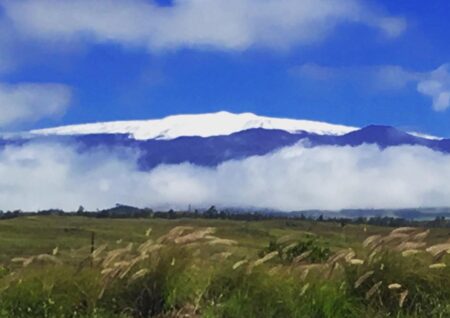 VASH Hawaiʻi Island received 56 referrals and assisted 145 visitors
JANUARY
CASE #1 - VASH assisted a group of visitors from Washington State who lost a backpack while exploring Laupahoehoe Point. The bag was left on the ground with some friends while another group of friends went to the shoreline. When the owner of the backpack returned, the bag was gone, as were the friends. The visitor assumed his friends grabbed the pack, however, once he returned to the hotel, he learned they had not. The back held two Nikon Camera lenses and a DGI mini 2 drone valued at $3,900.
CASE #2 - VASH received a phone call from Hilo Civil Defense regarding a 28 year old male from California, who arrived at Hilo Airport and refused to take a COVID test. He became belligerent, hit a police officer and pushed a security guard before being arrested. The prosecutors' office arranged he be released as long as he returned to California. The judge agreed. VASH paid for his returning flight at $279 via Delta Airlines out of Kona. If VASH did not intervene, we feared he would have caused further problems.
CASE #3 - VASH assisted a visitor whose husband suffered a heart attack. The man was taken to Kona Community Hospital by ambulance while paramedics performed chest compressions. The wife was transported to the hospital by Kona Police. The husband died from the incident and VASH was contacted by Kona Community Hospital's social worker for assistance. VASH ensured the wife had return transportation to her lodging accommodations and coordinated with a chaplain in the Kona area who arranged for emotional support at the rental unit. Fortunately, the wife had friends that lived in Waimea who were able to keep her company. VASH assisted the friends by answering questions and arranging cremation services. VASH also worked with Hawaiian Airlines to change the departure flight for the following day and have fees waived. VASH followed up with the friends the following day who were appreciative of the assistance.
CASE #4 - VASH assisted a group of four students traveling from the San Francisco Bay Area. A young man in the group tested positive for COVID-19 a few days before they were supposed to fly home. VASH advised him the protocol was to quarantine for 10 days before getting on the plane. He said he could not afford it, VASH coordinated with Hawaii Civil Defense to assist with accommodations at the Seaside Hotel Kona along with food and water. The rest of his group decided to fly home on their scheduled flight.
CASE #5 - VASH received a referral from South Kohala PD regarding a couple traveling from San Francisco who were staying at Waikoloa Hilton. While sitting near one of the trams, a family walked by and the visitor asked them if they wouldn't mind putting on their masks. A male from the group got very confrontational and punched the visitor in the face, breaking his glasses, and iPhone. The group left, and someone called police who arrived shortly and took a report. The following day, there was an article in one of the local newspapers, with a picture of the man who allegedly perpetrated the assault. The police are asking for public assistance to identify the man. VASH contacted the victim who had already flown back to San Francisco. His wounds were healing and he anticipating a return call from the police for case updates.
FEBRUARY
CASE #1 - VASH received a referral from Care Hawaii regarding a 61-year-old women who was visiting the island to check an item off of her "bucket list." She left her assisted living facility in Washington with little funds and her electric wheelchair. She eventually found herself without lodging and was staying on the beach at Old A's. She feared harm and said she was sleeping with scissors in her hand for protection. VASH purchased an airline ticket for her and secured her a room at Manago Inn, with the help of the Mormon Church. Next day, VASH volunteers and Care Hawaii took her to the airport and she returned to the Mainland where her daughters were grateful for her return.
CASE #2 - VASH received a referral from Kona Police Department regarding a visitor who arrived on a late flight. As the visitors were leaving the Kona airport, they were hit by a drunk driver. Fortunately, there were no injuries, however their rental car was undrivable and the rental car agency had closed. The visitors needed assistance locating the crashed rental car, which was towed. VASH worked with Kona Police in locating the tow yard where the car was taken. The visitors were very grateful for the assistance and support VASH provided. They said "Though our trip started off bad, your (VASH) kindness turned our vibe from bad to good. The world is a better place with people like you."
CASE #3 - A couple visiting from the east coast had their car broken into at Kehena Beach. The women was concerned about being taken advantage of as a visitor and asked for information regarding safety and not appearing like a tourist. VASH discussed various safety and security strategies with her.
CASE #4 - A gentleman from California was visiting Hilo and had not taken a COVID test. He had accommodations reserved, but was unable to stay because of not having a test. Civil Defense put him up at Hilo Sea Side for his quarantine.
CASE #5 - VASH received a call of from County of Hawai'i's Research and Development Tourist Division regarding the sexual assault of two young women from Oahu by their landlord renting them an Airbnb. The case has since moved to the Criminal unit and has a detective assigned.
MARCH
CASE #1 - VASH aided a visitor from the Pacific Northwest after he crashed his golf cart into a tree and broke his leg. VASH was contacted by North Hawaii Community Hospital after the man was admitted and scheduled for surgery. He was supposed to pick up the remainder of the family who was arriving the same day. He had left his phone in the golf cart and was unable to reach his family members to let them know he had an accident and would be unable to pick them up. VASH reached out to airport TSA to locate the family members, and Hawaii County Civil Defense assisted VASH with delivering a message to the family that he was unable to pick them up. VASH volunteers picked up the rental car key at the hospital and dropped it off at the Marriott for them. VASH volunteers met the family and drove them to the golf club to pick up the rental car. The visitors were thankful for our help.
CASE #2 - VASH aided a visitor who was traveling by herself from Ohio. She had done drugs and was repeatedly sexually assaulted before being taken to Kona Community Hospital for treatment. Her family was unable to provide financial support. VASH was contacted by Kona Community Hospital mental health unit for assistance in getting her home. We assisted by acting as a liaison with family members and agreed to purchase an airline ticket for the women with the condition of her going into rehab. With the assistance of a local mental health nurse, we were able expedite the admission to the rehab located in Cincinnati. VASH booked and purchased a ticket the same day and her father picked her up at the airport to drove her directly to rehab facility. The father was grateful for VASH's understanding and willingness to help his daughter.
CASE #3 - The police chaplain contacted VASH to assist a visitor from Utah whose son had died. She flew into Hilo with minimal resources. The victim died in police custody after a crime spree and assaulting a homeowner (while trying to steal the homeowner's vehicle). VASH prepared a care bag and delivered it to the Chaplain who originally contacted us. Unfortunately, the mother never reached back out to the Chaplain.
CASE #4 - VASH assisted visitors from Oahu who were on Hawaii Island to attend their niece's funeral (she had died the previous week in a one-car accident). The Prosecutors office contacted VASH, asking for assistance to find her a rental car, as everyplace was booked solid. VASH recommended Enterprise in Kailua-Kona town (not the airport location). The prosecutor's office was able to locate a car for them. VASH also assisted the visitors with filling out the Hawaii Safe Travels online form (even though they were from Hawaii, they were still confused).
CASE #5 - We assisted a couple traveling from Moscow, Russia who had taken, and received a negative COVID test so they could travel to Hawaii. They also took and had a negative RAPID test in New York (this one was within a 72 hour from departure to Hawaii). When they landed in Hawaii, they were told to quarantine because they didn't follow protocol. The husband called VASH and asked what he did wrong (he didn't speak English well). After a lengthy conversation, they chose to fly to California to retake the COVID test. Again, it was negative. On the second phone call, VASH advised them they would need to fly back to Hawaii no later than 8:00 am on 3/24. VASH also assisted with the Hawaii Safe Travels site, COVID info, and travel info.